More Than Just Timekeeping...
It's Time & Labor Management!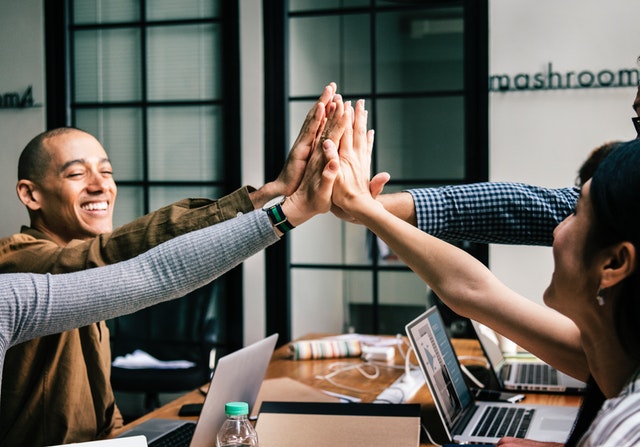 Tracking and managing employee time is critical - both to the success of your business and for good relations with your employees. Without it, pay is not correct, employees can be treated inappropriately, and you open yourself to Department of Labor audits that can cost you BIG TIME!
Our Time & Labor Management Solutions help Empower your employees - and improve your bottom line.
Empower your employees. Our self-service features let employees check their earnings and accrual balances, request time off, approve their timecard, and more - all from their mobile devices or computer.
Manage by exception. In a matter of minutes, managers can find and correct missed punches, respond to time off requests, approve overtime, and monitor compliance. Plus, you'll see the results of your changes instantly - so no more waiting for batch updates or slow reports.
Make better decisions. Learn when your employees are approaching overtime, see who needs to be paid a meal-time premium, find out who arrived early or punched-out late, and quickly and easily identify whether breaks have been taken. The information is real time, so managers can see who is clocked-in, and can take action immediately - not weeks later when it is too late.
Create a culture of compliance. With our solutions, you have the power to effectively manage all of your organization's time and attendance policies, simplifying compliance with wage and hour laws, and helping you avoid employee grievances, complaints and expensive litigation.

Every Option for Your Employees to "Punch" In and Out
Choose any combination of...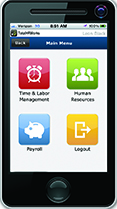 Clock hardware with biometric, RFID, and card swipe options
"Web Clock" (punch in and out from a computer browser)
Mobile App (also supports geofencing)
Or let your employees enter their hours directly onto their timesheets



Manage People Instead Of Paperwork

Optimize your timekeeping process, save time, improve your results!
Be alerted to when employees miss punching in or out.
View punches in real-time and see who's in/out from an electronic attendance board on your mobile device.
Maintain computerized records that will hold-up in a DoL audit, instead of messy paper timecards that can be challenged.
Easily review all timesheets on one screen.
Employees can submit their own timesheet requests electronically and all you need to do is approve or reject.
Overtime and pay is calculated automatically for you.
When all the timesheets are final, process them directly into payroll with the click of a button!

Automate your TIME OFF Request Process
With our online time off request tool, employees can make their time off requests within constraints you set in your time off policy. Managers get notified when their employees make requests so they can approve or reject, and the data they need is right there for them. Employees are notified about the approval status, and time off is automatically put on employee timesheets when approved.